QUALIFICATIONS
Judge Roach's qualifications and background are as extensive and as deep as his love for his family, his profession, his friends and his community.
---
---
THE JUDGE
Judge Roach was elected to serve as Judge of the 296th District Court in 2006, taking office on January 1, 2007.
As a general jurisdiction judge he presides over felony criminal, family law, civil litigation cases and cases involving Child Protective Services. He has disposed of over 20,000 cases in the last 10 years. Judge Roach has the lowest reversal rate of any judge in Collin County according to Westlaw legal research website.
In addition to his regular duties as Judge, Judge Roach has made significant changes to the judicial processes in Collin County through the use of technology. He developed the Felony Video Plea Program, with the cooperation of many other officials and department heads, which uses videoconferencing technology to connect the secured jail facility and the courthouse. This connection eliminates the need to have felony prisoners transported to the courthouse for plea hearings. This has decreased the potential liability to the County, made Sheriff Department employees who transfer prisoners safer, has made the employees and general public using the courthouse safer and has saved in excess of $500,000. The Program has received national recognition. Judge Roach has the opportunity to consult other counties in implementing this technology and has worked with local Legislators to make changes in the law to keep up with technology.
Judge Roach also developed the Mental Health Managed Counsel Program which developed specific protocols in handling criminal cases involving mentally ill defendants. He was instrumental is applying for and receiving a four-year matching grant from the Texas Indigent Defense Commission. Once the four-year grant had expired, the efficiency and cost-savings the Program has had for Collin County were so significant, the Program has now been established as its own Department in Collin County. The Program has received recognition throughout the country and is the model for how counties handle cases involving the mentally ill.
Judge Roach has also been chosen by his fellow judges to serve on the Collin County Purchasing Board. He also serves on the Collin County Technology and Security Committees.
THE PROFESSOR
Judge Roach has been an Adjunct Professor at Southern Methodist University where he taught graduate students in the areas of commercial litigation/business law, employment law and personal injury law. The graduates of the program receive a Master of Arts degree in Alternative Dispute Resolution.
Judge Roach has also been an adjunct professor at the University of North Texas College of Law in Dallas where he taught law students about alternative dispute resolution processes.
Finally, Judge Roach has been a sought after speaker internationally, nationally and state-wide in various areas of the law including the American legal system, American constitutional law, evidence, civil procedure, trial advocacy, the use of technology in the court system and veterans courts.
THE PUBLIC SERVANT
Becoming a Judge was not Judge Roach's first involvement in public service. Judge Roach was elected to two terms on the Plano City Council. He was the former President of the Rape Crisis Center of Collin County (now known as The Turning Point), served on the Plano Education Foundation Board, Collin County Bond Committee and Junior League Family Violence Committee. He was the volunteer campaign manager for the Plano bond election for the Arts Center of Collin County. Judge Roach and his wife, Laura, were selected as One of the 21 Leaders Leading Collin County into the 21st Century by Inside Collin County Business.  Judge Roach was chosen one of the Top 8 Leaders of 2008 by Plano Profile Magazine.
THE LAWYER
Prior to becoming a Judge, Judge Roach was the Managing Partner of ROACH LLP. He started the firm with himself and a secretary and grew the firm, with his law partner and life partner Laura Roach, to be one of the largest law firms in Collin County. The Roaches built the firm based on hard work, dedication to their clients, the highest of ethics and a desire to pursue the best result for their clients. Judge Roach represented multi-national corporations, small business and individuals on both the civil and criminal side of the docket, throughout the State of Texas. In fact, during Judge Roach's legal career, he tried cases in over 54 counties and even had one trial in Orange County, California.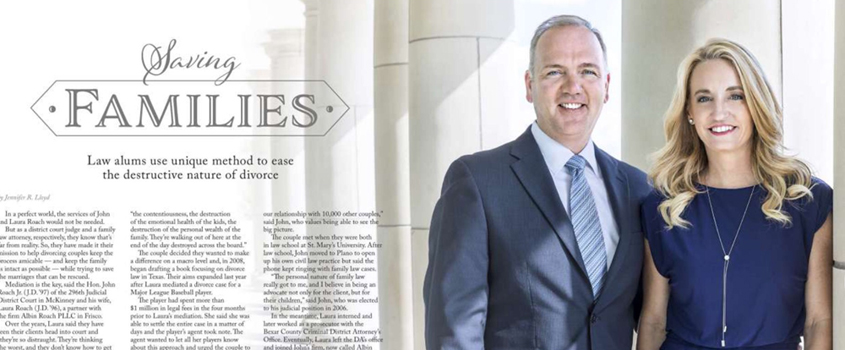 Judge Roach has litigated cases in 3 of the 4 United States District Courts of Texas, the United States Court of Appeals, 5th Circuit and is licensed to practice before the Supreme Court of the United States.
Prior to taking the bench, Judge Roach was an accomplished mediator having mediated more than 750 cases in civil and family law matters. He also was appointed by courts as a mediator, discovery master and arbitrator.
Prior to establishing his own law firm, Judge Roach was with the law firm of Cowles & Thompson, P.C. where he defended doctors and hospitals against medical malpractice suits.
Judge Roach attended St. Mary's University School of Law where he excelled in both academics and trial advocacy. He served as an Associate Editor of the St. Mary's Law Journal where he wrote an article on Manslaughter: A Lesser Included Offense of Intoxication Manslaughter? He received the academic American Jurisprudence Award in Criminal Law which is given to the law student with the highest grade in the subject. As a result of his academic success in law school he was selected by faculty members to be a Teaching Assistant in Federal Civil Procedure, Criminal Procedure and Legal Research and Writing.
In addition to his academic acumen, Judge Roach served as a Student Attorney in the St. Mary's Criminal Law Clinic representing indigent criminal defendants in the State and County courts of Bexar County, Texas. In fact, Judge Roach's first jury trial was a murder trial in which he represented a young defendant in the 227th Judicial District Court of Bexar County. Judge Roach was one of two students to be selected by the faculty to write a brief on a federal criminal law issue to be submitted and argued before the Supreme Court of the United States. St. Mary's flew Judge Roach and his classmate to Washington, D.C. when the case was orally argued before the Supreme Court.
His academic recognitions were only overshadowed by his success in advocacy competitions. He won over 12 mock trial competitions competing against law schools throughout the United States. In each of these competitions he received the competition's overall award for best advocate. Judge Roach was selected for membership in the prestigious organization, Board of Barristers, a national organization recognizing outstanding legal advocates. During his final year in law school, the St. Mary's faculty honored Judge Roach as Mock Trial Advocate of the Year.
During his law school summers Judge Roach clerked for the law firm of Touchstone Bernays in Dallas a firm specializing in insurance defense and the Dallas County District Attorney's Office in the Capital Crimes Division.
Prior to law school Judge Roach attended and graduated from the University of Texas at Austin where he majored in government.
THE MARINE
Judge Roach was a member of the United State Marine Corps Reserves from 1988-1996. Judge Roach was placed on active duty during Desert Shield/Desert Storm. He received the National Defense Service Medal and the Good Conduct Medal. As a Marine, he was a Crash, Fire and Rescue Specialist and a Emergency Medical Technician.
Congressman Sam Johnson has recently recognized Judge Roach by awarding him the United States Congressional Veterans Service Award.
Prior to the Marine Corps, Judge Roach graduated from Plano East Senior High School.
THE CONSERVATIVE
Judge Roach has resided in Collin County for 45 years. He has been involved in the Collin County Republican Party since the age of 8. He has voted in every Republican Primary in Collin County since the age of 18. He has been a delegate or alternate to National and State Republican Conventions, served as Co-Chair of the Collin County Lincoln Day Dinner, received the Dixie Clem Award, which recognizes the Outstanding Collin County Young Republican, and is a Founding Member of the Collin County Young Republicans. He is an Associate Member of the Golden Corridor Republican Women's Club and Conner Harrington Republican Women's Club.
THE FAMILY MAN
The Roach family lives in Plano. Judge Roach and his wife Laura spend their extra time loving their three boys: John, Jacob and Jack. Mrs. Roach is a partner at the law firm of Albin Roach where she manages the family law section of the firm.
Judge Roach has been an assistant coach in numerous sports for his boys, was Cub Master and Assistant Cub Master for Pack 2102 and a Den Leader in Den 4. They regularly attend Chase Oaks Church.
THE ATHLETE
Judge Roach is an active triathlete having completed several sprint triathlons and a duathlon. He has competed in Ironman Arizona in 2010 and 2011 which consists of a 1.2 mile swim, 112 mile bike ride and a 26.2 mile marathon run. He has created Team Roach which is an endurance athlete team consisting of his friends and neighbors. To assist the Bar to become more healthy, Judge Roach created the Legally Lean and Fit Competition which was a competition between lawyers on who could have the most improved fitness in a 12-week period. The competition was a huge success.