DBA Athletic Director: Elected to Serve: From Couch Potato to Ironman
Posted by thejudge in Jan, 2016
Original Article

 by Kenneth G. Raggio, 

DallasBar.org

 on January 22, 2016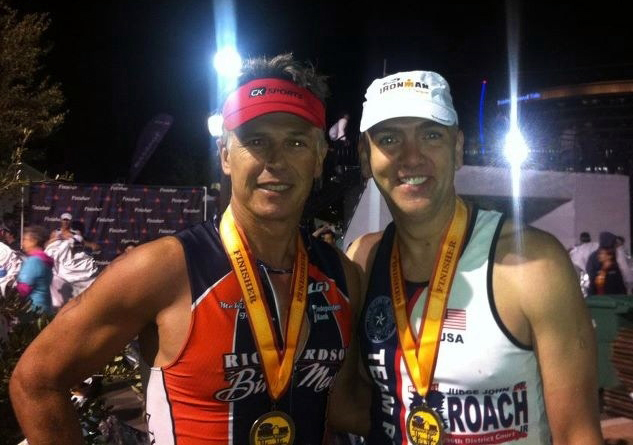 McKinney Mayor (and DBA member) Brian Loughmiller and Collin County Judge John Roach are elected officials who also have participated in an Ironman triathlon together. But their ways of getting there are decidedly different.
While skiing with his family in New Mexico at Christmas in 2009, Judge Roach, 45, found himself short of breath and unable to help his young children put on their skis or keep up with the family. He decided that if he did not do something to change his lifestyle, he might not be there for his children. Right then he started going to the gym. In the beginning, he could only do five minutes on an elliptical trainer. Slowly, he built up his time, and since then has become a fixture at the gym. While working out one day, he was told about sprint triathlons. He warmed to the challenge and decided to work toward that goal. He added swimming to his workout regime. And then he added bicycling.
By the fall of 2010 he participated in a full Ironman triathlon. An Ironman is a 2.4-mile swim, a 112-mile bike ride, followed by a 26.2-mile marathon run. Just competing—and even better, finishing—is a MAJOR accomplishment. Judge Roach is proud of the example he is setting for his children, and these events are now a family occasion.  The whole family cheers him on at his triathlons, and he and his wife, Plano attorney Laura Roach, ran the New York Marathon a couple years ago, running side-by-side the entire way. Judge Roach has lost 80 pounds, and like many of us still struggles to stay on a good eating regime, and to continue to "walk the walk."
Together Judge Roach and Mr. Loughmiller did the 2011 Ironman in Tempe, Arizona, which was a culmination of their competition and the routines that carried them through months of training. Both men agree that sometimes it is a struggle to fit exercise into their daily schedule, as both their family demands and the demands of their jobs can make it a challenge. But both praise the legion of benefits that exercise gives them.
Mr. Loughmiller, 55, describes his exercise routine as being key in helping him reduce stress and improving his the ability to control his emotions when performing official duties, such as holding a nationally televised press conference, or his day job as a divorce attorney. When he is biking, running, or swimming, there is no phone, no press, and no court. He finds it an excellent way to let his mind and body recharge.
Mr. Loughmiller started running after law school and ran his first marathon in 1994. He has run 10 marathons and has competed in triathlons—from sprints to minis, up to full Ironmans. Mr. Loughmiller, like Judge Roach, enjoys the challenge of a future event competition to help motivate him. He reports that training for an Ironman is a combination of scientific training and nutrition. He has triathlons upcoming in April and in September. In addition to these events, Mr. Loughmiller's goal includes improving his performance in the competitions; his last Ironman was 30 minutes faster than his first one four years ago.
Proof of the concept that the book Younger Next Year explains. Get the book. Read the book. (For more information on the book, see the January Headnotes column.) Email me at kenneth@raggiolaw.com suggestions for other lawyers to feature.
Kenneth G. Raggio is a partner at Raggio & Raggio, P.L.L.C. and can be reached at kenneth@raggiolaw.com. 

Category: In The News, News