SMU's New Counseling Center To Meet Collin County Needs
Posted by thejudge in Jun, 2015
Original Article

 appeared on 

SMU.edu 

October 7, 2008
For Collin County and other North Texas residents feeling the emotional strains of the sagging economy, abusive relatives or everyday life, a new source of affordable help became available this week at the SMU-in-Legacy campus.
The Center for Family Counseling, part of SMU's Annette Caldwell Simmons School of Education and Human Development, celebrated its opening in ceremonies at its facility on Tennyson Parkway west of Preston Road in Plano.
"When our Master of Science Degree in Counseling was approved almost three years ago, we made a promise to the students, our corporate neighbors, the judiciary and fellow mental health practitioners in this community that we would deliver a state of the art family counseling center that would serve us in all walks of life," said Tony Picchioni, chair of the School's Department of Dispute Resolution and Counseling.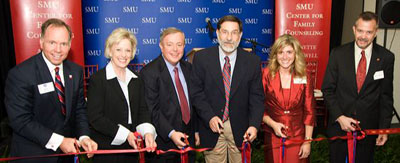 The Center will serve Collin County residents of all income levels by providing individual and group counseling services. In addition, the Center will offer bilingual counseling services to Spanish-speaking clients.
Plano Mayor Pat Evans said the Center would be even more important than originally anticipated because of the strains and stresses placed on individuals, families and businesses by the current economic crisis.
"SMU has stepped up and made the training and the expertise of their people available to our community in such an open and giving way that it's going to be a great partnership with our city and our citizens in a very valuable way," Evans said.
Counseling is provided by graduate students in SMU's Master of Science in Counseling Program, which prepares individuals for professional practice as counselors. Experienced doctoral-level licensed faculty and staff members direct the Center and supervise the students.
The Center provides low- to no-cost counseling services. A sliding-fee scale (with a maximum of $35 session) ensures that services are affordable to all, regardless of circumstances.
Judge John Roach of the 296th State District Court in Collin County said the Center's sliding scale will enable families going through divorce to get the help they need but could not otherwise afford.
"We certainly have counselors out there doing a great job for people, but some people couldn't afford to go to counseling," Roach said. "So as a court system looking to send a family to counseling, we had a difficult time trying to find a place that could provide them help. With SMU having a facility and having a sliding scale of fees, I think this is going to work out really well."
For more information about the Center, visit its Web site at http://smu.edu/familycounseling or calling 972-473-3456.

Category: In The News, News